Roomba® Side Brushes, 3-Pack compatible with gray side brush module
د.إ 25.00 inc. VAT
10 in stock
Free Shipping on All Robot Orders
Details
The Roomba® side brush reaches along edges to remove dirt, dust and debris. Easy to install and remove with the use of a coin or similar household item. Compatible with Roomba® 900, 800, 700, 600, 500 Series Robots with the gray side brush module.
How do I replace the Roomba® side brush?
The side brush is designed to be a part able to be replaced by users. Use the following procedure in the event it needs to be replaced.
Note: Please note that your robot series may vary. The side brush replacement procedure will be the same for all series.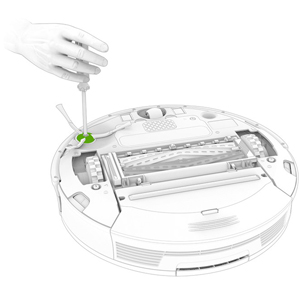 Loosen the side brush screw with a screwdriver or coin.
Remove the side brush.
Install the replacement side brush by firmly pressing it onto the side brush post.
Tighten the screw, being careful to not over-tighten the screw.